Author: Kelly Adao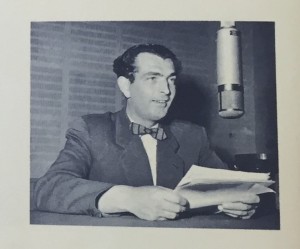 Camillo Felgen was known as one of the most famous speakers on the German Radio Luxembourg program. He started out as a news speaker for the French program before becoming the leader in many German speaking programs in 1958. He rapidly gained a broad audience across Europe.
Among his biggest acomplishments you can count his hit songs and of course the "Hitparade" which was a refreshing new experience for Radio Luxembourg. He also participated twice in the Eurovision song contest, being the 1st Luxemburgish candidate to ever sing in Luxemburgish ""So laang we' de do baass".
After 20 years of career moderating a long list of shows such as "Fröhliche Welle", Camillo Felgen bids Radio Luxembourg farewell and is succeeded by Frank Elstner. As a goodbye, they handed him a gilded microphone in which he had first spoken 20 years before. Camillo Felgen died at age 84 in 2005 in Esch-Alzette.
Sources:
Camillo Felgen presenting the Hitparade (© CNA Luxembourg)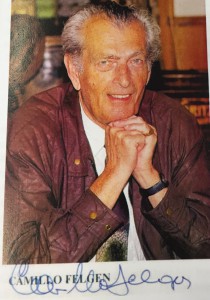 Literature:
Radio Luxembourg, The station of the stars, Europe's greatest commercial radio station, 1965
Radio Telé Letzebuerg, RTL Radio Luxemburg Chronik, 1957 bis 1990, Verlag Anita Pospieschil
RTL Group, Always close to the Audience, published by RTL Group 2014