Author: Kelly Adao
Elisabeth Bertram Merkels also known as Lilibert (through the merging of her names Elisabeth and Bertram) is known for being the first lady to work for Radio Luxemburg. She was born in 1923 in Luxembourg and had quite an ununsual career. In fact, after applying for a job at the station, she started out as a secretary for the English department.
After Radio Luxembourg decided to create a German program, Elisabeth was given a chance to be behind the microphone. On her frist day, she told the audience that she only had three records from her private collection to start a German show. Upon hearing that, the producer Fred Weyrich drove to Luxembourg and provided Elisabeth with lots of records.
The show "Die Stunde mit Elisabeth' was born where she entertained listeners for 4 hours daily. After marrying record producer Hans Bertram, she stopped working for the radio and started writing songs for German singers – some became hits like "Schön ist es auf der Erde zu sein" (Roy Black and Anita) among others.
Sources:
Elisabeth Merkels (source: CNA)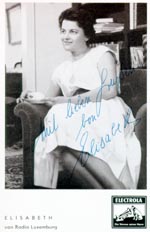 Literature:
RTL Group, Always close to the audience, 2014, p.23
Radio Telé Luxembourg, RTL Radio Luxemburg Chronik 1957-1990, 1991