Author: Myrna Tumelero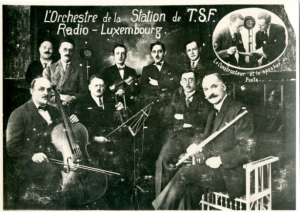 For nowadays generations which are used to have music everywhere they go, in their car, on youtube and even on their phones, it is difficult to explain that at the time, the recording and storage of sound was a difficult and expensive endeavour. Even though the necessary technology existed in principle, broadcasters hired entire orchestras to please its audience with music. Radio Luxembourg decided to create its own in 1933.
The orchestra started with 20 musicians and played its first music piece in the Villa Louvigny. Its musical director was Henri Pensis, a men which was an ambitious musician and was able to decrypt even very difficult musical masterpieces. Under his lead the orchestra could soon increase in number and status. To reach the audience and give them the illusion that there was a big symphonic orchestra playing on air, the technicians placed the microphones as near to the musicians as possible.
Soon the RTL orchestra became not only a radio orchestra but also decided to give live concerts and even play operas. Having not enough soloist in Luxembourg, Henri Pensis soon had to engage musicians that came from abroad, that's why one can state that the orchestra was a transnational one from its beginnings. The concerts given by Henri Pensis and its orchestra were well received by the Luxembourgish as by the foreign public as well.
Unfortunately the orchestra had to stop its activity on September 1939 due to political issues.
Sources:
Some words on the orchestra by its main author Loll WEBER
Source: University of Luxembourg
Literature:
WEBER, Loll: Das Luxemburger Rundfunkorchester. Eine dokumentarische Studie 1933 – 1940 und 1946 – 1958. Luxemburg 1993.
WEBER, Loll: Die ersten 25 Jahre des Luxemburger Rundfunkorchester und ihre Ausstrahlungen auf internationale Ebene. In: Livre d'Or de l'Harmonie Municipale de Wiltz 1794 – 1994. Wiltz 1994. S. 325 – 338.
WEBER, Loll : Die Pionierjahre 1933 – 1939 des Luxemburger Rundfunkorchester. In: Ons Stad. Luxembourg 3( 2001) p. 59 – 68.