Author: Myrna Tumelero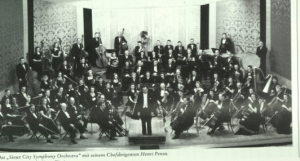 If your taught that being a musician in 1933 was an easy job, you're all wrong. Being a musician in the early 30's among the RTL orchestra was a full time job! Repetitions started at 10 o clock in the morning and finished for the lunchtime concert on the radio. Then the repetitions started again at 3 o clock pm to 6 o clock pm, on which time the orchestra had to play the evening concert.
As you can notice, being a musician wasn't an easy job at all and the orchestra just counted 20 members when it started. The orchestra also often had to fix some financial problems but thanks to his conductor, Henri Pensis it was always able to play with great soloist that came from abroad.
The first years were also marked by many improvisations. Sometimes the musicians were just informed one hour before, that they had to give a concert on the radio station. As one of the musician's stated, he was sitting on his dinner table when suddenly the radio announced that the RTL orchestra would give a great concert on its station. This musician had no phone at that time, so he ran as fast as he can to be able to play the concert.
Sources:
Here a taste of the RTL orchestra playing a wonderful piece written by Henri Pensis
Source: CNA ( The RTL orchestra playing, Summernuecht, written by Henri Pensis and directed by Carlo Kaufhold in 1965). Source of the images used in the video: WEBER, Loll: Henri Pensis ein Dirgent aus Luxemburg 1900 – 1958.
Literature:
WEBER, Loll: Das Luxemburger Rundfunkorchester. Eine dokumentarische Studie 1933 – 1940 und 1946 – 1958. Luxemburg 1993.
WEBER, Loll: Die ersten 25 Jahre des Luxemburger Rundfunkorchester und ihre Ausstrahlungen auf internationale Ebene. In: Livre d'Or de l'Harmonie Municipale de Wiltz 1794 – 1994. Wiltz 1994. S. 325 – 338.
WEBER, Loll : Die Pionierjahre 1933 – 1939 des Luxemburger Rundfunkorchester. In: Ons Stad. Luxembourg 3( 2001) p. 59 – 68.