Author: Nils Floener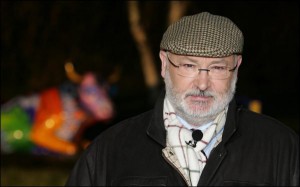 Former weatherman and television cook of RTL; Max Kuborn is currently a politician of the liberal party in Luxembourg. In 1995 he became, as the successor of Marc Olinger, the presenter of the show 'De Kichechef'. During his years at Radio Luxemburg he also presented the weather, as the first Luxemburgish weather forecaster ever.
Max Kuborn always invited guests to cook different meals for all opportunities. These guests had usually been cooks from Luxemburgish restaurants and the meals they prepared were their specialities. During the episode, Max Kuborn used to ask a lot of questions about the meal, about the cook and how he got the idea of creating the dish. Furthermore, they always used national products for the cooking.
During the weather forecast, which lasted no more than 2 minutes, the weather frog presented the weather for the next days. Starting with the Luxemburgish forecast and continuing with the European weather, he finished the episode by the name day of the following day and by the sunrise and the sunset.
Sources:
https://www.youtube.com/watch?v=eWdA2GhxnlU
https://www.youtube.com/watch?v=CTOW2g8KTYY