Author: Mélanie Correia Da Veiga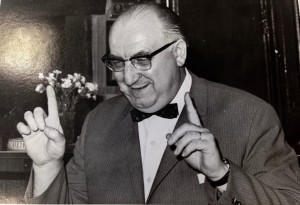 Paul Leuck was among the first Luxemburgish radio speakers in the post-war period. For 35 years, Leuck reported about sports and political events before he ended his broadcast carreer on October 1st, in 1979.
On the 1st October 1944 Leuck broadcasted his first radio show called "Welcome to our friends" from the studios of the Villa Louvigny. He also presented the programs "d'Zaldotenstonn" and "d'Krankenemissioun".
Paul Leuck was well known for his detailed comments on the foreign policy during the Kennedy- and Nixon era. Leuck's comments, as a convinced anti-communist, weren't always, as you can imagine, neutral. But what really left a lasting impression was his unmistakable, confident and wheezy baritone voice.
Sources:
Interview with Paul Leuck on his last day (Source: CNA)
Paul Leuck on the atmosphere on Radio Lëtzebuerg (Source: CNA)
Literature:
Leuck, Paul, "L'emission luxembourgoise", in: Les cahiers luxembourgoises, numéro de Nöel, Luxembourg 1954, p.127-132.
Clesse, René, "Radio days", in: Ons stad, numéro 106, Luxembourg 2014, p. 34-35.
Paul Leuck, in: d'Letzeburger Land, numéro 8, Luxembourg 22.02.1991, p.2.