On the 30th August 1942, the Gauleiter of Luxembourg, Gustav Simon, announced the introduction of the conscription for all Luxembourgish men born between 1920 and 1924. The next day, a general strike originating in Wiltz, in the North of the Grand-Duchy, took place in Luxembourg.
Several students of the Lycée classique d'Echternach participated in the strike. Their refusal to submit to the occupant's orders was punished with an incarceration of several months at Stahleck castle, a re-education camp situated next to the German village of Bacharach in Rhineland-Palatinate.
Once 're-educated', the young men participated in a military parade at Esch-sur-Alzette that reintegrated them symbolically into the community of 'good' Germans.
See also : announcement of conscription in Luxembourgish news paper Escher Tageblatt.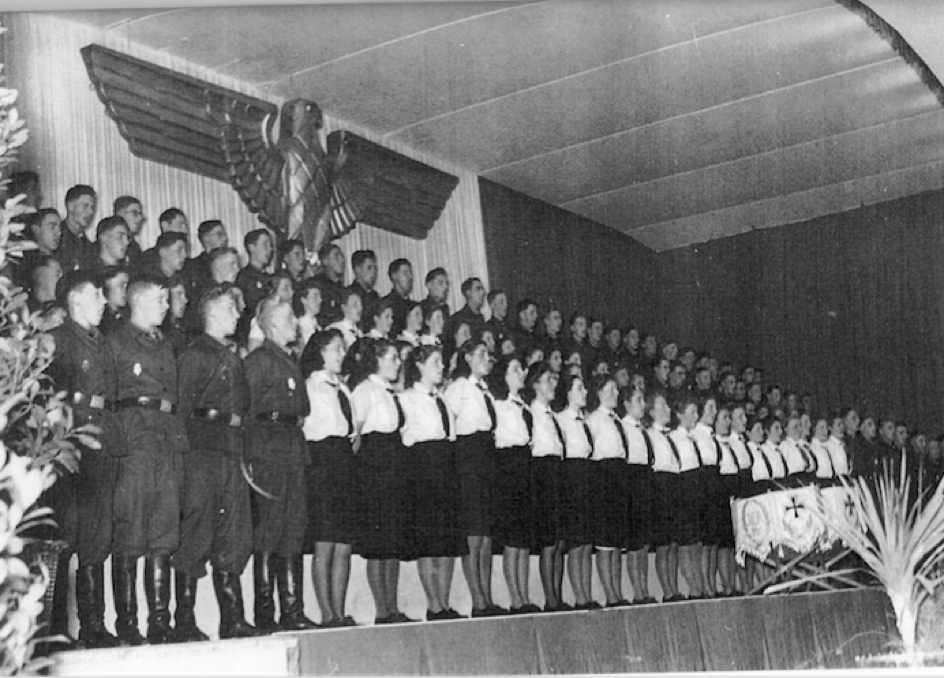 Final ceremony of the military parade in Esch-sur-Alzette
References:
BADE U., WELTER B. Die Burg Stahleck – in der NS-Zeit nicht nur Jugendherberge, Mayence, Landeszentrale für politische Bildung Rheindland-Pfalz.
LE GOUVERNEMENT DU GRAND-DUCHE DE LUXEMBOURG, Commémoration à l'occasion du 60e anniversaire de la grève général du 31 août 1942, [Online], https://www.gouvernement.lu/818488/31greve. (Page consulted : 10.11.2016 ; Last updated : 22.11.2013)
Lycée classique d'Echternach, Mir waren nëmme Bouwen… : de Schülerstreik vun 1942 a seng Folgen, [DVD], Echternach, Lycée classique d'Echternach, 2009.
TAGEBLATT, Luxemburg streikte gegen die Besatzer, [Online], http://www.tageblatt.lu/nachrichten/luxemburg/story/Luxemburg-streikte-gegen-die-Besatzer-14475726. (Page consultéd 10.11.2016 ; Last updated : 31.08.2016)