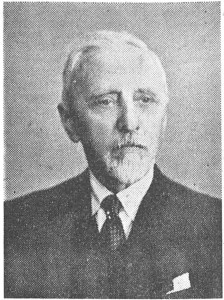 Author: Fabio Spirinelli
It was not a coincidence that Emile Reuter (1874-1973) became the first President of the CLR. Since its creation, the new radio company was tightly linked to the government, intent on keeping its control on media. Emile Reuter is the best illustration of this unusual relationship: the Luxembourgish politician was a former Prime Minister and at the time President of the national Parliament.
Even before the CLR started broadcasting, Reuter was involved in setting the right framework for the future company. He was president of the commission tasked to work out the proposal for a law on radio broadcasting, which was ultimately adopted in 1929. In his opinion, the law should give just enough liberty to the radio without the state losing its grip.
Reuter was passionate about radio and considered the new media a means of strengthening the independence of the Grand-Duchy, especially after the First World War. Influenced by Christian values, he wanted the radio to become a source of moral and material progress for all classes. Despite this overly optimistic vision, Reuter was also a pragmatic leader of the CLR/CLT – and not the last statesman chairing the CLR/CLT.
Sources:
Literature:
MARECHAL Denis, Radio-Luxembourg, 1933-1993: un média au coeur de l'Europe. Nancy: Presses Universitaires, 1994.
MARECHAL Denis, RTL, histoire d'une radio populaire: de Radio Luxembourg à RTL.fr. Paris: Nouveau Monde Editions, 2010.
http://www.rtlgroup.com/en/news/2015/20/gracing_the_airwaves_for_60_ye.cfm